1 tbsp oil
1 red pepper finely chopped
150g broccoli finely chopped
2 spring onions sliced
6 large eggs
1 tbsp milk
Large pinch of smoked paprika
small handful of chives chopped (optional)
50g cheddar or gruyere cheese grated (optional)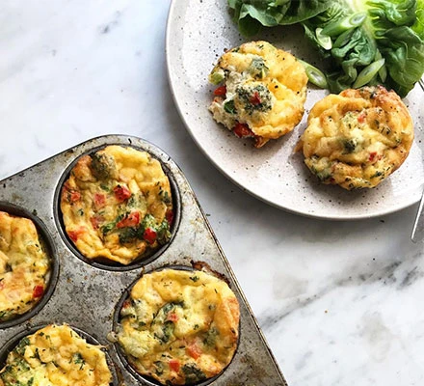 Heat the oven to 200/180 fan/gas 4. Brush half the oil in an 8-hole muffin tin. Heat the remaining oil in a frying pan and add the broccoli, pepper, and spring onions. Fry for 5 minutes and set aside to cool.
Whisk the eggs with the milk, smoke paprika and half the cheese in a bowl. Add the cooked vegetables. Pour the mixture into the muffin tin holes and add the remaining cheese and a few chives (optional). Bake in the oven for 15 to 17 minutes or until golden brown and cooked through.