Raspberry & Cinnamon Breakfast Pancakes
1 cup ground almonds
2 tbsp smooth almond butter
1 tsp ground cinnamon
A pinch of sea salt
1 tsp lemon juice
2 tbsp powdered erythritol or 1/5 tsp stevia powder
1 tbsp coconut oil plus extra for cooking
1/2 tsp bicarbonate of soda
3 medium organic free-range eggs
1/2 cup fresh organic raspberries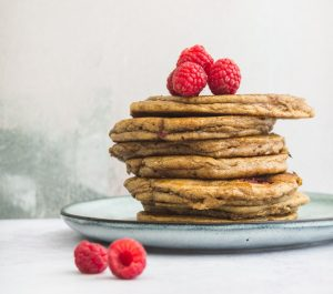 Add the ground almonds, almond butter, cinnamon, salt, lemon juice, sweetener (to taste), coconut oil and bicarbonate of soda to a food processor. Blend until well combined.
Crack the eggs into the food processor. Blend well until smooth and thick. Pour the mixture into a bowl. Set aside for 10 minutes, allowing the mixture to thicken a little.
Halve the raspberries. Add the raspberries to the pancake batter and stir gently through.
Heat a teaspoon of coconut oil in a non-stick frying pan over a medium heat. Swirl to coat the pan. Once the pan is hot, scoop up 1/4 cup of pancake batter. Tip the batter into the hot pan, forming a pancake shape roughly 1cm thick. Repeat this with another 1/4 cup of batter. Cook the pancakes for roughly two minutes, or until firm enough to flip. Cook for a minute or two more on the second side until cooked through and lightly golden all over.
Repeat this process with the remaining batter, re-oiling the pan as needed. You should get 8 thick American style breakfast pancakes from the mix.