160g baby sugar snap peas
3 tbsp Mayonnaise
1 ½ tbsp soy sauce
1 lime juiced
1 garlic clove crushed
275g pack microwaveable rice noodles
150g white cabbage finally sliced
4 salad onions finely sliced
160g Hot smoked salmon with Teriyaki (or your chosen cooked salmon)
Chilli oil to serve (optional)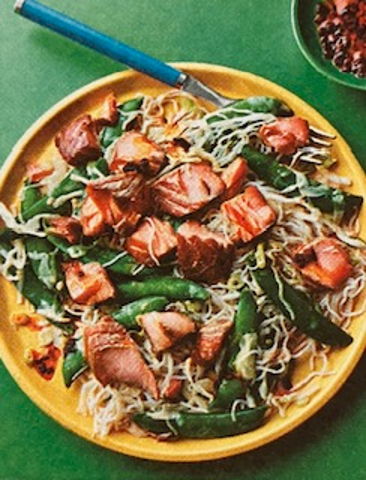 Bring a saucepan of salted water to the boil, then blanch the sugar snap peas for 2 –3 minutes. Drain, refresh under cold running water, and drain. Meanwhile, in a large mixing bowl whisk together the mayonnaise, soy sauce, lime juice and garlic.
Heat the noodles according to the packet, then add to the mixing bowl along with the cabbage, salad onions and sugar snap peas. Toss everything together to coat in the dressing. Add to plates.
Remove the skin from the salmon and flake the fish over the noodles. Serve with chilli oil (optional)