Ingredients
1x red onion (large), small diced
1 x red pepper, small diced
1x heaped tsp curry powder
3x cloves of garlic, crushed
150g split red lentils, washed
1x tbsp miso paste
1x 400g tin chopped tomatoes
300ml water
75g creamed coconut block
50g spinach, chopped
1x tbsp of lemon or lime juice
Extra virgin olive oil
Salt & Pepper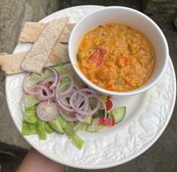 Heat a drizzle of oil in a medium size pan and fry the onions and pepper for about 5 mins, add the curry powder and garlic and stir well.
Pour in the lentils, miso paste, chopped tomatoes and water. Stir and bring to the boil, simmer for approx. 20 mins, stirring occasionally.
Add the creamed coconut and simmer for a further 5 mins or until thick and creamy.
Just before serving add the spinach and lime/lemon juice and stir to combine.
Check the seasoning and add salt and pepper if needed
Serve with a fresh green salad, flatbread, rice, or cauliflower rice.