Peanut Butter Millionaire Shortbread
Shortbread:
125g ground almonds
70g erythritol
1/4 tsp salt
55g butter
Caramel:
165g smooth peanut butter
55g butter
140g erythritol
60ml double cream
1/2 tsp vanilla extract
Topping:
85g dark chocolate (70% cocoa)
2 tbsp butter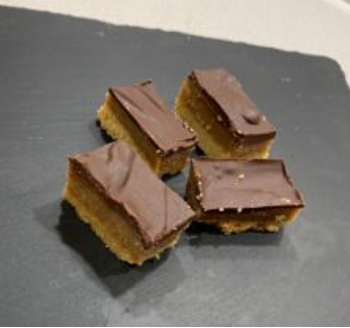 Makes 16 shortbreads / Prep Time 10 Minutes – Cook Time 20 Mins & Refrigerate 20 Mins
Preheat the oven to 180C. Combine dry ingredients for the crust in a food processor and pulse. Add butter and pulse until the mixture resembles fine crumbs.
Press the mixture into the bottom of a square pan. Bake for 15 minutes, set aside and let cool.
In a microwave-safe bowl, combine peanut butter and butter, melt on high until it can be stirred to a smooth mixture, about 1 minute. Stir in erythritol, then whisk in the cream and vanilla.
Pour over cooled shortbread and spread evenly. Refrigerate until set (20mins).
Combine the chopped chocolate and the butter. Heat in the microwave on high in 30-second increments, stirring in between, until smooth.
Spread over the chilled filling. Leave at room temperature for about 1 hour.