Sticky Pomegranate Chicken
1 tbsp pomegranate molasses
1 tbsp balsamic vinegar
2 x glove garlic crushed
4 chicken thighs
1 tbsp Olive oil
1 red onion finely chopped
100g quick cook spelt or bulgur wheat
250ml chicken stock
10g flat leaf parsley
45g rocket leaves
100g pomegranate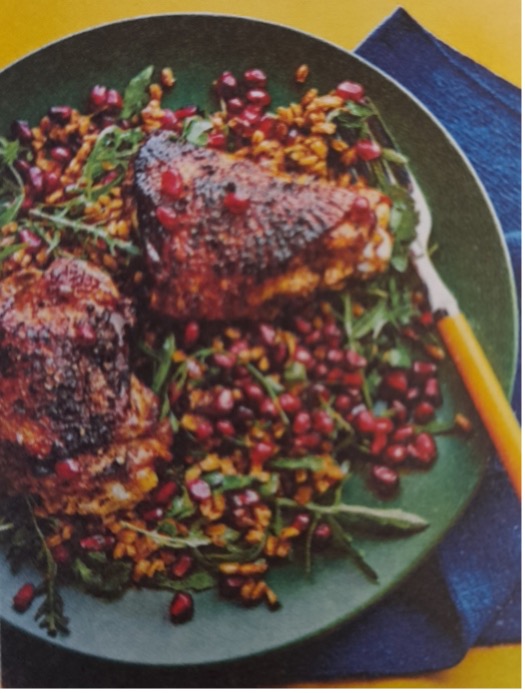 In a bowl mix together the pomegranate molasses, vinegar, and garlic. Add the chicken turning to coat in the marinade. Marinade for 1 to 4 hours, turning the chicken occasionally.
Pre-heat the oven to 180° (Gas mark 4). Heat the oil in a large ovenproof frying pan and fry the onions with a pinch of salt over a medium heat for 5 minutes until soft. Stir in the spelt or bulgur wheat and stock, bring to a simmer. Season the chicken and arrange skin-side up the pan, pour over the rest of the marinade. Roast in the oven for 45 minutes until the chicken is cooked through (the juices run clear and no pink meat).
Remove the chicken from the pan and let everything rest for 5 minutes. Just before serving, stir in the parsley, pomegranate seeds and rocket through the spelt/bulgur wheat. Place on the plate and add chicken to the top.