Spiced Cauliflower Curry with Red Bell pepper and Peas
½ head of cauliflower, cut into large florets
1 onion
2tsp ground cumin
1 small red bell pepper thinly sliced
1tsp turmeric
1tbsp finely grated fresh ginger
3tbsp light olive oil
2 cloves garlic chopped
2tsp black mustard seeds
1 large green chill sliced
6-8 curry leaves
2 ripe tomatoes chopped
125ml vegetable stock
125g frozen or fresh peas
 Steamed or boiled basmati rice (optional)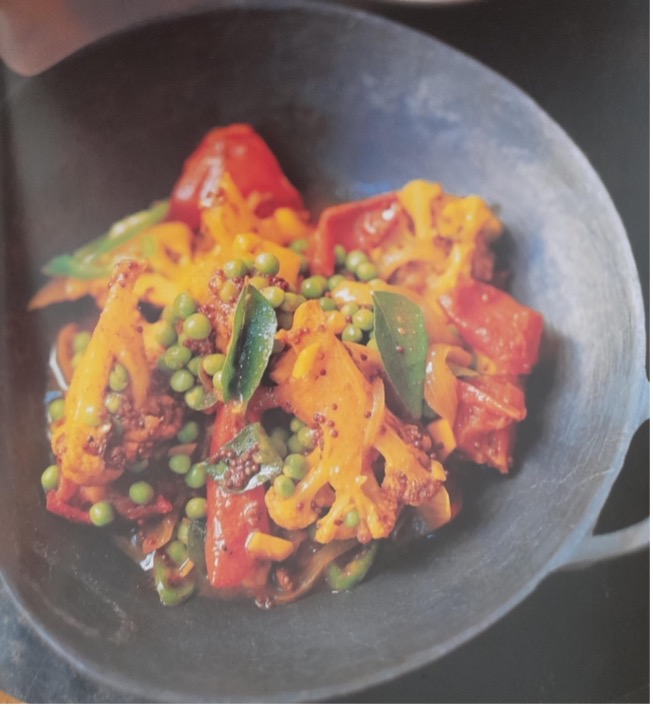 Put the cauliflower florets, cumin and turmeric into a large bowl and toss until the cauliflower is coated in the spices.
Put the oil in a frying pan over a medium to high heat. Add the cauliflower, mustard seeds and curry leaves and cook for 8-10 minutes. Keep turning until the cauliflower has softened and coloured with spices.
Add the onion and red bell pepper then cook for a further 5 minutes. Add the ginger, garlic and chilli and stir-fry for 1 minute. Then add the stock, tomatoes, and peas. Reduce the heat and let simmer for 10 minutes until the vegetables are tender and cooked through.
Spoon over cooked rice, if desired.